Dr. John Killinger
Reviews
Ever imagine what Jesus would be like as a modern woman?
Read Jessie: A Novel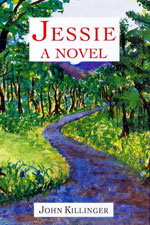 An artist who paints her parables instead of telling them, Jessie gets into trouble with the conservative religious establishment by painting a series of portraits of great women in religion. One thing leads to another, until she gets crucified and... Surprise, surprise, she isn't done for then! You'll enjoy the parallels between Christ and this Christlike woman -- especially when she turns water into the best beer anybody ever tasted!!
_________
What some people have said about Jessie:
"Reading Jessie was one of the most moving experiences of my 44 years!"
— Brenda Tapia, chaplain, Davidson College
"Jessie showed me in a very believable parable exactly how God transcends gender. I have sent it to my four daughters, my mother-in-law, and recommended it to all my friends, including a female priest. Everyone has loved it!"
— Elizabeth Nettles, deacon in the Episcopal Church
"I was sorry when I had finished Jessie. I loved it!!"
— Lee Turner, musician, Jacksonville, Florida
"Jessie is a stunner! I read it, thought about it, and started over again. It's a beautiful story!"
— Jean Moyer, retired minister's secretary
"Jessie is a wonderful book! I thoroughly enjoyed it, and found myself engaged in Jessie's personality and struggles. It comments on many of our current religious dilemmas."
— William Willimon, Bishop of Alabama for the United Methodist Church
---
Another novel about Jesus as a woman, this time set in Nashville, Tennessee, the nearest thing to Jerusalem we have in America
The Night Jessie Sang at the Opry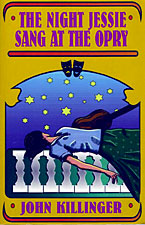 Like Christ in the Bible, Jessie ends up taking on the whole religious establishment for the sake of the little people in today's society: homosexuals, AIDS victims, battered wives, and girls who've had abortions. She writes and sings beautiful songs about life and people, and the evil in modern society finally has to blow her away. But not for good! Read about the eerie appearances she makes to people who loved her — and to one hardened reporter who says he can never be cynical again!
____________
What some people have said about The Night Jessie Sang at the Opry:
"This book really rocked me, especially when I realized it was an allegory of the life of Jesus told in contemporary terms. "A female Christ,' I said; wow and double wow!' What a great story!"
— Billie M. Marsden, designer, Memphis, Tennessee
"TNJSO is a truly significant commentary on modern life. Every time Jessie opened her mouth, I heard Jesus speak about something important to me. I was deeply moved! Thank you."
— W.R. Huddleston, salesman, Topeka, Kansas
"I have two sons who are homosexual. This novel gave me more hope than anything I have seen that there is genuine understanding of their plight in modern religious circles. Jessie is one beautiful lady!"
— Garnett E. Phibbs, retired, Charlotte, NC
---
Thought you'd read every good book about prayer and meditation on the market? Not if you haven't read
Bread for the Wilderness,
Wine for the Journey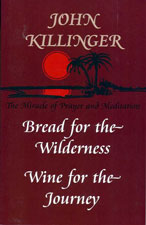 Reviewers have called it "a modern classic," "the best book on prayer ever," and "the one book that will really make you feel like praying before you finish it."
Norman Vincent Peale, author of The Power of Positive Thinking, said it taught him more about prayer than any book outside the Bible!
______________
What some people have said about Bread for the Wilderness, Wine for the Journey:
"Bread for the Wilderness, Wine for the Journey filled a real vacuum in my life. The author doesn't know it, but he has blessed my life from afar."
— Dan M. Aycock, religious editor and writer
"Bread for the Wilderness, Wine for the Journey is a truly wonderful book. I've read it through once, marked a number of passages, and intend to study its message, for it contains a remarkable in-depth quality."
— Norman Vincent Peale, clergyman, author of books on positive thinking
"I wish I'd had this book when I was trying to learn how to be a Christian. Its beautiful, clear style and its vivid insights combine to make it the best guide for Christian living and understanding I've ever come across!"
— Norma Ellstrom, artist and musician
---
Do you think England is the most beautiful place you've ever visited? You've never been there? Either way, you'll love
Oh, To Be in England!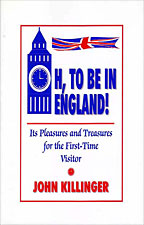 Most travel guides read like travel guides. This book is different. It's a warm, chatty introduction to the fabled sights and experiences of this land as seen through the eyes of a born story-teller, poet, and lover. Whether he talks about churches, cricket, or cheddar cheese, you will actually see England through his eyes, and will thank him for making you see things you had never seen before, with a grace and beauty that will never let you forget them! Oh, To Be in England! makes a wonderful gift for anyone who's planning a trip there or anyone who has already been there and wants to remember it as it really was!

What some people have said about Oh, To Be in England!
"I have a shelf full of books about England, and I love this one best of all!"
— Margaret McAllister, New York publicity agent
"Those who accept John Killinger's offer of a warm and chatty introduction to England will actually experience a personal visit with a delightful Anglophile!"
— Dr. William Cowley, retired professor
"Oh, To Be in England! greatly whetted our appetites before we visited that beautiful place. For planning a trip or simply enjoying it vicariously, this book is invaluable!"
— David and Betty Harkness, traveling retirees
"I read this book from cover to cover and loved it! It helped me relive a lot of wonderful experiences and made me want to have a lot more!"
— Charlotte Harbert, avid traveler
Chapter titles: "History You Can Touch," "Love Those Diesel Fumes," "You Aren't Whole-Brained Till
You've Driven on the Wrong Side of the Road," "An Englishman's Home Is (Really) His Castle," "A Nation of Church Bells," "Oxford and Cambridge B England's >Twiniversities'," "The English Langwidge an' Them as Speaks (Or Mispeaks) It," "The Sporting Life," "A Bit About Cakes and Ale," "My Final Word," "Some Itineraries"
Web site by Knot-Head-Designs
Revised: December 7, 2018
---